Hi Everybody! I'm Jacob McNamara, a Clarkson grad of '16. I'm from Madrid, NY which is just ten miles down the road from Clarkson. Since I grew up in the North Country-I'm going to share some of my favorite places to go, things to see and some ongoing tips for thriving up North. In this post I'm going to be covering some of my favorite places to grab some sweets near the Potsdam campus. Let's take a look!
Sweet Margaret Potsdam, NY
A look at their 'Potsdam Sandstone' storefront
If you're looking for a unique set of sweet and baked options, Sweet Margaret Dessert & Bubble Tea shop is the place for you. In 2020 they moved to Potsdam but have been serving macarons, savory breads, pork belly buns and more since 2017. Don't forget to grab a Boba tea or a milk smoothie to go with your order! Sweet Margaret is open Tuesday-Saturday, Noon until 6pm, located at the corner of Main and Market.
Half Dozen Bakery Madrid, NY
A gem of a bakery in one of the finest of towns (though I may be a little biased living down the road). Half Dozen Bakery provides home baked goods and a specialty coffee and latte selection. I'm partial to their lemon bars and their bacon-egg-onion biscuit. Keep an eye out for their sister bakery truck 'Anastasia's' at farmer markets' and nearby summer events also!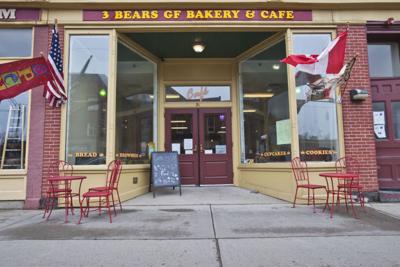 3 Bears Gluten Free Bakery & Café Potsdam, NY
3 Bears is the North Country's only gluten free bakery! Any of their cookies, brownies, breads and cakes are all 100% free of gluten. 3 Bears also serves a full menu of breakfast, lunch and dinner. With delicious sandwiches, pizza, wings and more-they are sure to have something to sate your appetite. Grab a beverage while you're there with their fruit smoothies or have a beer or cider with your meal. 3 Bears also makes sweets for special occasions so be sure to reach out to them for all your gluten free needs!
A newly renovated Potsdam classic, Scoops is a walk-up style ice cream stand in the heart of downtown. Nestled next to the movie theater their sign boasts "Shakes, Ice Cream, Splits" but they are sure to offer much more in the hot summer months. They offer hard ice cream products by Byrne Dairy and soft serve by Hood. Across the street from the stand is a local Clarkson fraternity Zeta Nu.
Cindy's Cake Shop Canton, NY
For special order cakes and confectioneries there are few better places to go than Cindy's Cake Shop. Whether it's a roommate's birthday or an end of the semester party you can't go wrong placing an order here. Specializing in wedding, graduation and holiday cake creations-make sure to give them a call if you have an upcoming event that needs an extra sweet centerpiece.
Stewart's Shops
Potsdam, Canton…
"Hey are you going to Stewart's?" Was a common question when heading down from campus into town. With a dessert bar stocked with their signature ice cream you can also get pizza, iced/hot coffee and a variety of to-go food items. Their sundae kit makes for an easy addition to any event, and their 24/7 operation makes them a prime location for last-minute groceries too. Stewart's are fondly known as 'more than just a gas station' locally so swing by and pick up what you need when you get the chance.
Cookies, Cream & Co. SUNY Potsdam
This is a nice little spot that could be easily overlooked. My twin brother, who went to SUNY Potsdam, let me know about this campus feature of our neighbors across town. Nestled in the Barrington Student Union is a shop where you can satisfy your sweet cravings-or just indulge in a second breakfast. They offer custom made milkshakes, ice cream sundaes and a variety of smoothies made to order. A selection of specialty cakes and pies is there to choose from as well. This place is usually pretty busy near the end of each semester, mostly full of students trying to use up the last of their campus credit before heading home. A mostly unknown for most non-SUNY students but definitely worth checking out!
Jernabi / Sugar Valley Bakery Potsdam, NY
This two-in-one business is found on Fall Island in Potsdam. Jernabi boasts locally sourced coffee, tea and espresso along side baked goods produced by Sugar Valley Bakery. They have space to study, chat and enjoy whatever tasty treats you grabbed inside. Jernabi collaborates with other businesses in Potsdam to occasionally offer different goods. They have also previously been a host for Clarkson's 'Science Café'- a series of talks where research scientists and university professors share their research and discoveries with the community.
Wherever you pick to get your sweet fix from, enjoy exploring the nearby communities and businesses. You may find a new favorite spot or make some friends in the process! Keep an eye out for a second course of blogs featuring local restaurants and dinner spots.